Get ready to have a fun summer in Atlanta! This comprehensive guide showcases the best events and activities happening in the city during the summer months. From festivals and concerts to outdoor adventures and family-friendly attractions, discover the diverse range of experiences awaiting you. Learn how Sponge & Sparkle can help you make the most of your summer by providing a clean and refreshing home base for all your adventures.
Experience the Excitement of Summer in Atlanta
Atlanta comes alive during the summer, offering a plethora of exciting events and activities for locals and visitors alike. Whether you're a foodie, music lover, outdoor enthusiast, or someone looking for family-friendly fun, Atlanta has something to offer everyone. Let's dive into the vibrant summer scene in this bustling city and explore the must-attend events.
Atlanta Food and Wine Festival: A Culinary Delight
One of the highlights of summer in Atlanta is the Atlanta Food and Wine Festival. This delectable event brings together top chefs, sommeliers, and food enthusiasts to celebrate the culinary diversity of the region. Indulge in mouthwatering dishes, sip on fine wines, and participate in engaging culinary workshops. The Atlanta Food and Wine Festival is a food lover's paradise, and it's a must-visit event for anyone looking to tantalize their taste buds this summer.
Live Music Galore: Atlanta's Summer Concert Lineup
Music enthusiasts are in for a treat with Atlanta's summer concert lineup. From outdoor amphitheaters to intimate music halls, the city hosts a variety of performances throughout the season. The popular Piedmont Park Summer Concert Series is a favorite among locals. Grab a blanket, relax under the stars, and enjoy live music from renowned artists across different genres. The rhythmic beats and electrifying performances will keep you dancing all summer long.
Thrilling Outdoor Adventures in Atlanta
If you're seeking outdoor adventures, Atlanta has plenty to offer. The Chattahoochee River National Recreation Area is a haven for nature lovers. Spend a day hiking along scenic trails, kayaking in the river, or picnicking by the water. For thrill-seekers, Six Flags Over Georgia promises an adrenaline-packed experience with its thrilling roller coasters and water rides. Embrace the excitement and create lasting memories with friends and family.
Family-Friendly Fun: Exploring Atlanta's Attractions
Atlanta is a fantastic destination for families, thanks to its numerous family-friendly attractions. The Georgia Aquarium, one of the largest aquariums in the world, is a must-visit for kids and adults alike. Explore the underwater world and get up close to fascinating marine creatures. Another family favorite is the Atlanta Botanical Garden, where you can stroll through breathtaking displays of flowers and plants. Kids will love the interactive exhibits and the enchanting Children's Garden.
Sponge & Sparkle: Your Cleaning Solution for a Refreshing Summer
Now that you've discovered the incredible summer experiences awaiting you in Atlanta, it's essential to have a clean and refreshing home base to return to after your adventures. That's how Sponge & Sparkle can participate! As Atlanta's premier cleaning service, Sponge & Sparkle ensures your home is spotless, allowing you to relax and recharge for the next day's excitement. Enjoy a sparkling clean home while making unforgettable summer memories.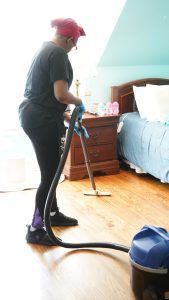 Unforgettable Memories Await: Embrace Summer in Atlanta
As you spend your incredible summer experience, come back to a rejuvenating home, courtesy of Sponge & Sparkle. We're committed to keeping your living space flawless. With our services involving a keen attention to detail, you'll have an alluring amusement through the season that is something to look forward to after every activity or event you are a part of.
So pack your bags, gather your loved ones, and get ready for a fun summer in Atlanta that is memorable!
Call (404) 633-9652 or request your free quote on our website.