Are you wondering if the value of a home cleaning service is really worth it? There are many benefits to be gained from hiring a professional cleaning service to keep your home in order. Not only does it save you time and energy, but it also ensures your home is thoroughly cleaned and maintained on a regular basis. From reducing stress to preventing health issues, the benefit of a home cleaning service is undeniable. In this blog post, we'll be taking a look at some of the reasons why professional home cleaning services are worth it.
1) Gives you more free time
Having a home cleaning service or maid service can be a lifesaver when it comes to having more free time.
A professional cleaning service can take on all the tedious and time-consuming tasks associated with keeping your home clean. This will free up more of your valuable time to spend with family and friends, pursue hobbies, or even just relax and unwind after a long day.
With a professional cleaning service, you can reclaim your free time and make sure your home is always kept clean and tidy.
2) Reduces your stress
When you have a busy lifestyle and multiple responsibilities to juggle, it can be easy to get overwhelmed.
Many of us put off household chores until it becomes too difficult or time-consuming to handle. Hiring a maid service can help to reduce the stress associated with keeping your home clean and organized.
With a professional cleaner taking care of all your cleaning needs, you can focus on the tasks that really matter and have more time to relax and enjoy your life.
3) Allows you to entertain friends/family more often
Having a professional maid service to clean your home allows you to entertain friends and family more often.
No one wants to come over to a messy and cluttered house, so having a maid service to keep your house clean can help you to create a comfortable and inviting atmosphere for your guests.
With the extra time from not having to do all the cleaning yourself, you can focus on meal planning, decorations, and activities.
4) Reduces your allergy symptoms and risk of illness
Having a professional home cleaning service clean your home can have numerous health benefits, including reducing your allergy symptoms.
Allergens, such as dust mites, and pet dander can linger in the air and cause reactions for those who suffer from allergies or asthma. A professional cleaner can eliminate these irritants from your home, providing much-needed relief from symptoms like sneezing, coughing, and watery eyes.
They can also help reduce the risk of other illnesses by deep cleaning surfaces and objects to remove bacteria, viruses, and other potentially harmful germs.
This is especially important if anyone in your household has a weakened immune system. By investing in a professional home cleaning service, you can ensure your home is free of allergens and germs, giving you peace of mind and better overall health.
5) Makes your home comfortable and enjoyable
Having a home that looks and feels clean can be incredibly comforting.
A clean and organized home is much more enjoyable to live in than one with clutter and mess. Plus, having a clean and clutter-free home makes it easier for you to find the things you need with ease.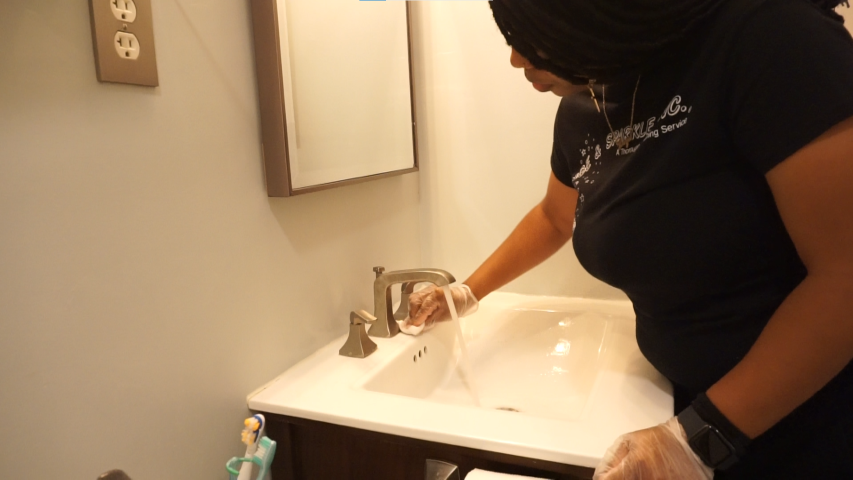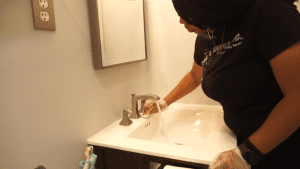 Schedule Your Routine House Cleaning Service with Sponge & Sparkle
At Sponge & Sparkle, we offer professional cleaning services to help take the hassle and stress out of keeping your home tidy and in top shape.
Our house cleaning services are designed to give you more free time and reduce your stress so that you can spend more time enjoying your life and your home.
Sponge & Sparkle offers one-time, bi-weekly, and monthly home cleaning services in Atlanta, Georgia and surrounding areas including Brookhaven, GA, Buckhead, GA, Decatur, GA, Chamblee, GA, Tucker, GA, and more. Call us at (404) 633-9652 today to get your free estimate!