Why do we say that Sparklers are making the world better one clean home at a time? It isn't just a catchy slogan. It has been proven that people are happier with a clean and neat environment. And, when people are happier, they treat other people better because that is a by-product of less stress. Thereby we are making the world better, one clean home at a time!
The Importance of Having a Clean Home
Having a clean home is essential for both our physical and mental health.
A clean environment can reduce stress, improve air quality, and even enhance our relationships with family members. In today's world, it can be hard to find the time or energy to keep your home clean and tidy. That's where professional house cleaning services can help.
A residential cleaning service can take the stress out of keeping your home clean.
It can be difficult to manage all of your daily tasks in addition to cleaning your house, but with a residential cleaning service, you no longer have to worry about it. Furthermore, it can be incredibly beneficial for those suffering from anxiety or depression. Cleaning can be a great form of stress relief as it helps clear the mind and gives you something else to focus on other than what's stressing you out. It can also give you a sense of accomplishment when you're done, leaving you feeling more satisfied and content.
How a Clean Home Makes You Happier
Having a clean home can have an immense impact on our mental health and wellbeing.
According to Abbas Kanani, health advisor for Chemist Click, "A clean home can contribute to feelings of happiness, accomplishment, and calmness." House cleaning services can help individuals who struggle to keep up with regular cleaning due to a hectic lifestyle or lack of resources.
Not only can cleaning be a stress reliever, but it can also help those who suffer from anxiety.
It may seem counterintuitive, but the act of cleaning can reduce feelings of anxiety. According to Healthline, when you do something with purpose, like cleaning your home, it gives you a sense of accomplishment and it can also distract you from your worries and concerns. This in turn can help ease your anxious thoughts and feelings.
Ultimately, having a clean home is one way to improve your happiness and well-being.
House cleaning services can be a helpful way to manage a hectic schedule and keep up with your home maintenance. Doing regular housework can also be a great distraction and can help reduce your anxiety levels.
How a Clean Home Makes You Treat Others Better
Having a clean and organized home can have a positive impact on how you treat others.
Studies show that clutter can increase stress, which in turn, can lead to an increase in negative thoughts and emotions. By having a clean space, it helps reduce stress levels, which can help improve your attitude and outlook on life.
Can cleaning be a stress reliever? Absolutely! Decluttering and organizing can be therapeutic, as it gives you a sense of accomplishment.
When your living space is clean and tidy, it can also help improve your concentration and focus. This is important when dealing with difficult tasks or conversations, because it will give you the mental clarity needed to come up with solutions.
Does cleaning help with anxiety? It definitely does! Cleaning can provide a sense of control in our chaotic lives, helping us feel more grounded.
Plus, when our living space looks clean and inviting, we can relax knowing everything is in order. It's also great for relieving stress after a long day.
Overall, by having a clean and organized home, we can make ourselves happier and more likely to treat others better. With the help of Sparklers, you can make the world better one clean home at a time!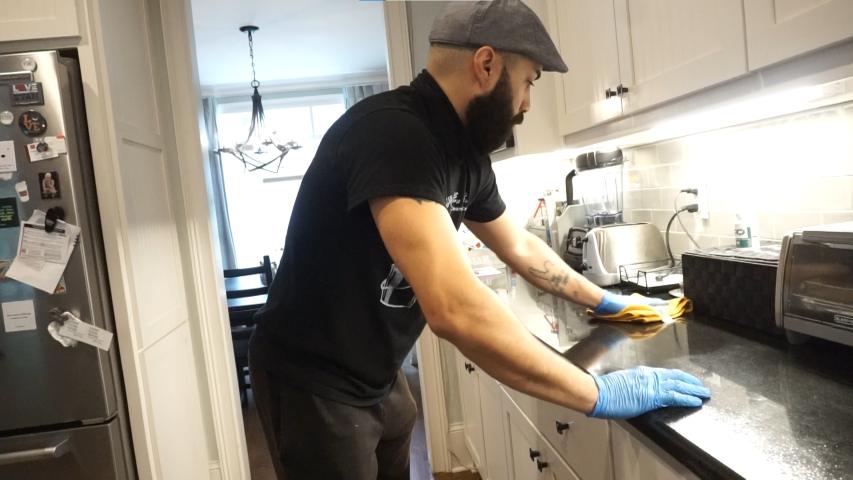 Hire Sponge & Sparkle and let us make you happier!
At Sponge & Sparkle, we understand that having a clean and organized home is important for both your physical and mental wellbeing.
Not only does it reduce stress levels and improve your focus, but it has even been proven that cleaning can help with anxiety. That's why our team of professional cleaners are here to make your life easier, one clean home at a time!
What our customers say about our cleaning services:
"Crystal is wonderful -- she goes the extra mile every time!!" - Susan L.

"What is clear to me is that your people take great pride in what they do, and I am sure I'd be happy with anyone you send!" - Martha B.

"Is 5 the best? Because my cleaning was the best!" - Laura F.

"My house was spotless and smelled great!" - Jade L. 
Our experienced cleaners will make sure that your house is spotless and that everything is neatly organized so you can focus on what's really important in your life.
Our goal is to make sure that you feel comfortable, relaxed and happy in your home. We want to help you create a safe and inviting space where you can just be yourself and enjoy life without any worries or anxieties.
So if you're looking to make your home a place of peace and serenity, then look no further than Sponge & Sparkle. Our team of experienced professionals are dedicated to providing you with the best possible service, so you can just relax and enjoy the freshness of a clean home. Contact us today and let us make your life happier, one clean home at a time!