Are you feeling overwhelmed by your housekeeping responsibilities? Do you feel like there is no time to clean? Don't stress; here are five time-saving cleaning tips that can help you get the job done quickly and efficiently. These tips will help you save time cleaning, so you can focus on the things that are most important to you.
1) Prepare Before Cleaning
For time saving cleaning, always prepare before you plan to clean. Before starting your home cleaning project, it's important to make sure you have the right tools and solutions. Having the right supplies and equipment on hand will make cleaning much easier. Just use a bucket or caddy to store all your supplies together, making it easier to carry everything with you as you clean. To make your cleaning routine much easier, check out this shoppable list of the best cleaning caddies.
2) Make Cleaning Last Longer
Ensure that your kitchen cleaning lasts longer by cooking outside on your BBQ grill or smoker.
To lessen the amount of dusting you'll have to do, change your air filters often to reduce airborne soil and dust.
Try to limit food to the kitchen or dining room so that messes don't get spread throughout your home.
3) Protect Your Floors
Do you feel like you're always cleaning your floors, but dirt and grime quickly find their way back in? Change how you protect your floors so you can save time and energy when it comes to cleaning.
One of the simplest yet most effective ways to keep dirt from entering your home is by removing your shoes at the door. This helps stop dirt from being tracked through the house and on your floors, saving you time and effort on cleaning.
Another great way to protect your floors is by placing a mat at all entryways. This will help prevent dirt from entering your home and making its way onto your floors.
Finally, remember to spot-treat any stains as soon as they happen. This way, the stain won't have a chance to set in and will be easier to clean. Make sure to always have a spot treater on hand so that you're prepared. Try out this eco-friendly carpet stain cleaner by Enzyme Fresh Home.
4) Practice "Mess Control" for Time Saving Cleaning
One of the easiest ways to make cleaning easier is to practice "mess control." This means that as you go about your daily activities, clean up any messes you create right away. For instance, when cooking, take a few minutes to clean up as you go along. Before you leave a room, make sure all closets, drawers, and cupboards are closed. And if you take something out, put it away after use. Doing this will prevent large messes from building up, which can be overwhelming and time-consuming to clean up.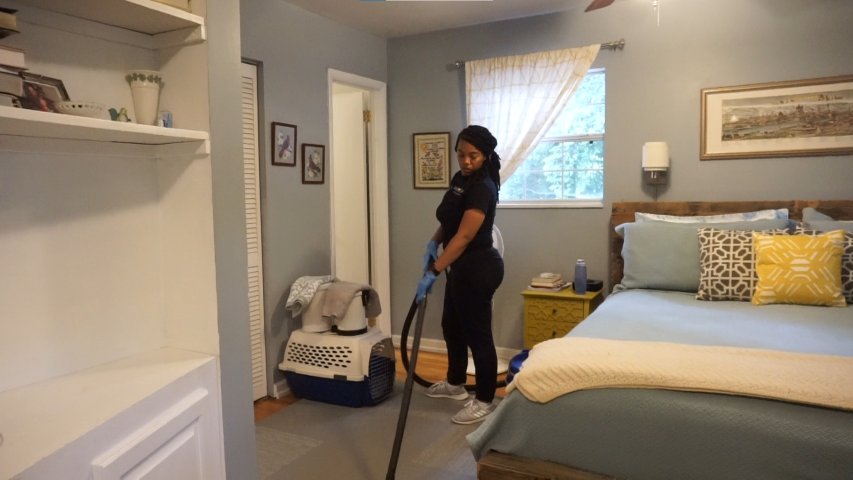 5) Hire a Cleaning Service
If you're short on time and looking for a way to make cleaning easier, consider hiring Atlanta's best home cleaning service, Sponge & Sparkle. Our professional housekeeping services are available to help you get your house clean quickly and efficiently. From weekly and biweekly services to deep cleaning services, we can take the stress out of housekeeping and make it easier for you to maintain a tidy home. Call us today to get your free estimate!