Green cleaning is an important part of a healthy home. It involves using eco-friendly products, techniques, and processes to clean and maintain a home without damaging the environment. There are many green cleaning benefits that you may not know about, such as reducing indoor air pollution, eliminating the use of hazardous chemicals, and improving indoor air quality. In this blog post, we'll discuss the top five green cleaning benefits you should know about.
1) They have positive effects on your health.
Green products are ideal for creating a healthier home since using them will dramatically improve the indoor air quality of your home. Since green products are made with natural ingredients, you won't be breathing in potentially hazardous fumes or having any toxic substances come into contact with your skin.
Many traditional household cleaners contain hazardous chemicals that cause coughing, sneezing, eye irritation, and skin rashes. What's worse is that the continual use of regular cleaning sprays has the similar impact of smoking 20 cigarettes per day, according to a 2018 study.
2) Green cleaning products are better for the environment.
Green cleaning products are an important step in reducing the environmental impact of housecleaning. Traditional cleaners contain harsh chemicals that can contribute to air and water pollution, as well as ozone depletion and climate change. On the other hand, eco-friendly cleaning products are created using safe, non-toxic, biodegradable ingredients that don't have the negative impact on the environment that tranditional cleaners do.
3) Just as effective as traditional cleaning products.
Despite the fact that they are made from natural ingredients, these products are just as capable of removing dust, dirt, and germs from your home as traditional cleaning products. This means that you can have a sparkling clean home without the worry of toxic chemicals being present. Green cleaning products allow you to keep your house looking its best without any negative health effects.
4) Often less expensive
Green cleaning products are becoming more and more popular, thanks to their cost-effectiveness. Many of the green cleaning options available on the market are much more affordable than traditional products which means that you can save money in the long run without sacrificing cleanliness. Additionally, green cleaning products tend to last longer than traditional ones, so you don't need to buy them as often.
5) Many options to choose from
Shopping for green cleaning products can be tricky since many of the products you'll see will mislead you with "green washed" words like "environmentally friendly," "eco safe," or "green". It's best keep an eye out for the Safer Choice label or the DfE (Design for the Environment) label which means that product has been certified by the United States Environmental Protection Agency.
Here's a few of the best green cleaning products on the market: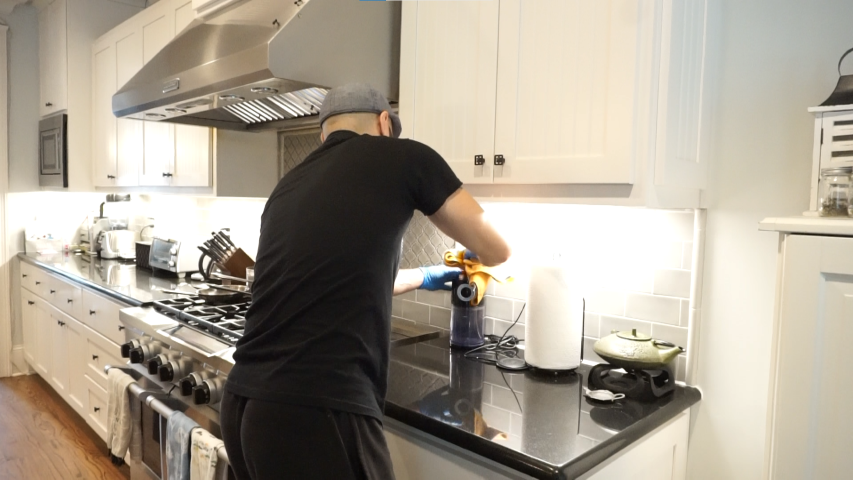 Relax and let us keep your home safe and green clean!
Hiring Sponge & Sparkle is the best way to ensure that your home is being cleaned safely, efficiently, and cost-effectively using green cleaning products. Our experienced housecleaners understand the importance of green cleaning and always use products specifically designed for the job.
Sponge & Sparkle offers one-time, bi-weekly, and monthly home cleaning services in Atlanta, Georgia and surrounding areas including Brookhaven, GA, Buckhead, GA, Decatur, GA, Chamblee, GA, Tucker, GA, and more. Count on us to keep your home safe and green clean. Call us today to get your free estimate!