If you're a pet parent, you know that pet stains are a fact of life. Cleaning up pet stains can be a daunting task, but it doesn't have to be! With these four tips for quickly and easily removing pet stains, you'll be back to enjoying your home in no time. Whether you're dealing with a new pet stain or trying to remove an old one, these methods of pet stain removal will help you get the job done.
1) Before You Begin
It's especially important to act quickly when the accident first happens in order to prevent long-term staining and odors. The more liquid you get out of the carpet or rug before it dries, the better and more successful this process will be.
If you are removing a vomit or feces stain, be sure to use a plastic bag to pick them out of the carpet or rug. Be careful not to further embed anything into the fibers.
Use paper towels to firmly blot the area. Once those first towels are soaked, grab a fresh set of and firmly blot the area again. Repeat as needed until the paper towels are no longer absorbing much moisture. As a last effort, while wearing shoes, press a set of paper towels into the flooring with your foot.
Remove the paper towels and choose a cleaning solution below to remove the stain and odor.
2) Use Vinegar + Baking Soda
Vinegar and baking soda make the perfect pair to remove pet stains from your carpet! Just start with these simple steps:
Spray the stain with vinegar using a spray bottle. Be careful to just get the area wet, not soak it.
After allowing the vinegar to sit for a few minutes, sprinkle the soiled area with baking soda.
After the bubbling stops, use you gloved fingers to agitate the stain a bit.
Wait a day or two to allow the area to dry completely before vacuuming.
You might notice the area is still a bit discolored, so use some cool water to rinse the area and blend out the edges of the discolored area.
Firmly blot the area with a cloth.
3) Try Hydrogen Peroxide + Baking Soda
Here's another great combination that's safe for your home and great for removing stubborn pet stains. To get out pesky pet stains, begin with the following steps:
Sprinkle a generous layer of baking soda, making sure it covers the entire soiled area.
In a clean, empty bottle, mix 1/2 cup of hydrogen peroxide 3% with 2 cups of water.
Spray the solution over the baking soda, saturating the soiled area well.
For smaller stains, use a toothbrush to work the solution into the carpet. A larger, soft-bristled brush would be best for larger stains.
Leave the solution to dry for at least two hours before vacuuming the area. You will know the area is dry when the area is covered with dry baking soda.
4) Hydrogen Peroxide + Dish Soap
This hydrogen peroxide mixture can have a mild bleaching effect, so be sure to spot check for colorfastness before you use it.
Mix 4 tbsp hydrogen peroxide, 2 tbsp lukewarm water, and a few drops of dish soap in a spray bottle. You may need to double or triple the recipe for larger stains, however, this mixture is intended for single use only, so make sure to only mix up what you need.
Once you have your mixture, simply spray it onto the stained area and agitate the area a bit with your gloved fingers.
After letting the solution work for about 10 minutes, use paper towels to the blot the area.
If you still see a stain, spray the area again and place a set of fresh paper towels on the area. Then, place a heavy object, like a stack of books, on top of the area, leaving it to sit for a few hours of overnight.
Once the stain in removed, rinse the area with cool water, blending the edge of the stain. Blot the area dry.
After the area fully dries, vacuum over the treated spot to fluff the carpet fibers.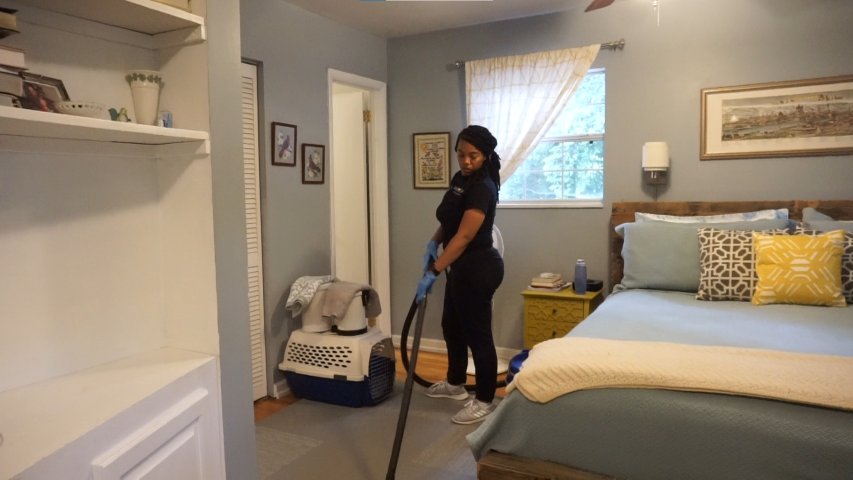 Contact Us!
For an easier and stress-free way to keep your carpets and upholstery clean, consider hiring a professional home cleaning service. Sponge & Sparkle offers one-time, bi-weekly, and monthly cleaning services in Atlanta, Georgia and surrounding areas including Brookhaven, GA, Buckhead, GA, Decatur, GA, Chamblee, GA, Tucker, GA, and more.
Our experienced staff can help you remove pet stains quickly and efficiently. We have the tools and experience to get rid of pet stains and odors, and can even provide a deep clean if you're looking to really spruce up your space. Contact us today for your free estimate!