Are you looking for fun things to do near Atlanta GA? Look no further! With mild temperatures and a variety of outdoor activities, the Atlanta area has something for everyone. Whether you're looking for outdoor adventure, a cultural experience, or a chance to explore nature, there is no shortage of things to do near Atlanta GA this winter. Here are five activities that you won't want to miss out on.
1) Visit Zoo Atlanta
When looking for fun and exciting things to do near Atlanta GA this winter, don't miss out on the opportunity to visit Zoo Atlanta! Located in Grant Park, Zoo Atlanta is home to over 1,000 animals from around the world, including some of the most endangered species on the planet. From majestic African elephants and playful red pandas, to colorful birds and amphibians, there is something for everyone at Zoo Atlanta.
In addition to its incredible variety of animals, Zoo Atlanta also offers a number of exciting experiences. You can take a guided tour and learn about the animals, or you can feed them by hand. You can even join the animal training sessions to observe how animals are trained and socialized.
The Zoo also offers a variety of educational programs and special events throughout the year. From the popular NightCrawler Overnight, a nighttime zoo tour, to Wild Encounters, an up-close animal experience, there is plenty to explore and discover at Zoo Atlanta.
2) Explore Little Five Points
If you're looking for a unique and fun experience near Atlanta GA this winter, Little Five Points is the place to be. Located in the heart of East Atlanta GA, Little Five Points is an eclectic mix of culture, art, music, and independent businesses. Whether you're looking for an unforgettable evening out or a great spot to shop for unique gifts, Little Five Points has something for everyone.
Start your evening off with dinner at one of the many restaurants in the area. From local favorites like The Vortex and Hattie B's Chicken to international cuisines like Thai 5 & Sushi Bar and Niramish Indian Cuisine, you won't be disappointed. Make sure to bring your appetite because there are plenty of options to satisfy it.
After dinner, make your way to The Star Bar or one of the other watering holes in the area. Grab a cold beer and listen to live music while playing a game of pool. Little Five Points is also home to several venues that host special events such as comedy shows and open mic nights. So be sure to check out what's happening during your visit!
When you're ready for some retail therapy, stroll down Euclid Avenue and explore the variety of independent shops. From vintage clothing to locally made jewelry and antiques, there is something for everyone at Little Five Points. And if you need a break from shopping, grab a cup of coffee at one of the local coffeehouses or take a break in one of the area's many parks.
3) Go Indoor Rock Climbing
Whether you are an experienced climber or a beginner, Atlanta GA has some of the best indoor rock climbing gyms in the country. Check out Stone Summit Climbing or Adrenaline Climbing.
Indoor rock climbing gyms offer a wide variety of challenges and routes to choose from, allowing climbers of all skill levels to find something that fits their needs. Experienced climbers can tackle more difficult routes that require physical strength, agility, and problem-solving skills. Beginners can start out on shorter and easier routes that still provide an enjoyable experience. In addition to providing a fun way to stay in shape, rock climbing also provides a great way to bond with friends or family.
Most indoor rock climbing gyms near Atlanta also offer instruction for those who are just starting out. Professional staff will teach you the basics of safety and how to climb correctly so you can have a safe and successful experience.
4) See a Show at the Fox Theatre
Located in the heart of Midtown Atlanta, this theatre has been a beloved landmark since 1929 and is one of the most iconic performing arts venues in the country. The Fox Theatre hosts an array of amazing shows and performances throughout the winter season, making it an ideal outing for the entire family.
From comedy to musicals to live concerts, there's something for everyone at the Fox Theatre. Popular shows this month include The B-52s Farewell Tour with KC & The Sunshine Band, Trevor Noah's comedy tour, and the Tony-winning musical Hadestown.
The Fox Theatre is not only an incredible venue for seeing a show, but it's also an architectural marvel that should be appreciated on its own. With its grandiose interior, beautiful ceilings, and ornate columns, it's easy to see why this theatre has been around for so long. Plus, when you purchase tickets you can take advantage of pre-show tours and learn about the building's history and unique features.
5) Visit the Ponce City Market
This former Sears, Roebuck & Co. building is now a vibrant marketplace featuring a variety of shops, restaurants, and entertainment. At Ponce City Market, you'll find everything from vintage clothing and locally made jewelry to farm-to-table cuisine. Whether you're looking for souvenirs or a great meal, you're sure to find something to love here.
In addition to all the shopping and dining options, Ponce City Market also hosts several events throughout the year. On the rooftop this winter, you can take advantage of seasonal activities like private igloos and ice skating. And don't forget to check out their rooftop playground with mini-golf and carnival rides!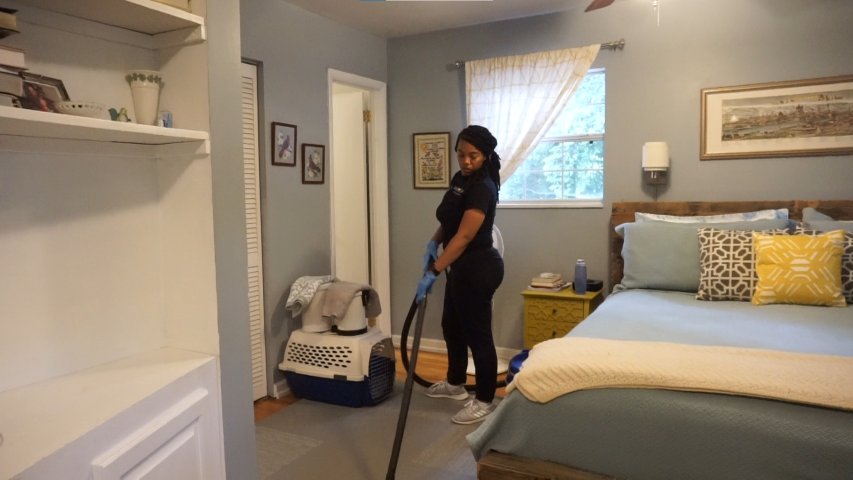 Enjoy Your Winter Fun and Leave the Cleaning to Us!
With beautiful snowfall and colder temperatures, there are plenty of ways to enjoy the winter season in Atlanta, Georgia! Whether you're looking for outdoor activities or cozy indoor activities, we hope you and yours have an enjoyable winter season!
But let's face it – after all the fun and excitement, your housework will still be waiting when you return home. That's why at Sponge & Sparkle, we want to make sure you have the chance to fully enjoy your winter fun, free from the dreaded chore of housework afterward!
You can have peace of mind that your home will always be sparkly fresh and well taken care of with us. Sponge & Sparkle offers one-time, biweekly, and monthly cleaning services in Atlanta GA and surrounding areas including Brookhaven, GA, Buckhead, GA, Decatur, GA, Chamblee, GA, Tucker, GA, and more. Contact us today at (404) 633-9652 to schedule your first cleaning or book online.